Eltham High Street Regeneration Project
Project:
Discipline:
Principal Contractor (as Term Contractor)
Client:
RB Greenwich
Value:
£6.6m
Programme:
Feb 2016-ongoing
Scheme:
Eltham is one of three major town centres in the Royal Borough of Greenwich, historically important as the place where Henry VIII grew up. The improvement to Eltham High Street is part of the Council's regeneration masterplan for the town centre. JB Riney, as Term Contractor for the Council, was appointed as the Principal Contractor to implement the £6.6 million scheme, primarily funded by Transport for London. Work started in February 2016 and is now nearing completion with the final phase of works in Passey Place and completion of traffic signal installations along the High Street.
The works completed by our company support the introduction of a 20mph speed limit and restricted parking zone to make the place more attractive and inviting for shoppers, visitors and more vulnerable road users. Passey Place has been transformed into a small public area which will be used for entertainment and events, including a farmers market. The paving pattern laid in Passey Place by our masons has been reflected in special surface treatment across the High Street to link the area, both physically and visually, with the main shopping street.
Stakeholder Interfaces:
We established a drop-in centre in a vacant shop within the works area which is used as a consultation and information point for residents, businesses and visitors to see and comment on the proposals for the High Street and for up-to the minute information on the works programme and progress. The drop-in has been used by Greenwich councillors to celebrate key milestones in the project delivery. Liaison with London Buses for the suspension and relocation of bus stops required meticulous planning and agreement to ensure bus services were not disrupted or passengers inconvenienced by our works.
Works undertaken:
Widening and re-paving of footways
Carriageway resurfacing
Improved cycle facilities and cycle lane
Inset parking bays
New signal controlled junction layouts and pedestrian crossings
Relocation of bus stops
Trees and landscaping with sustainable drainage systems
Decluttering of signs, posts and other street furniture
Hard landscaping and special surface treatments
Programming and Scheme Management:
The programme was developed around key milestones and events to ensure 'business as usual'. This included suspension of major works in the build up to Christmas shopping and also to accommodate Christmas Lights switch-on. Maintaining access for deliveries was a paramount consideration as was continued access to shops and cafes along the High Street. We have adapted our programme to accommodate works by other contractors including street lighting, utility works, developments and the TfL traffic signal contractor.
---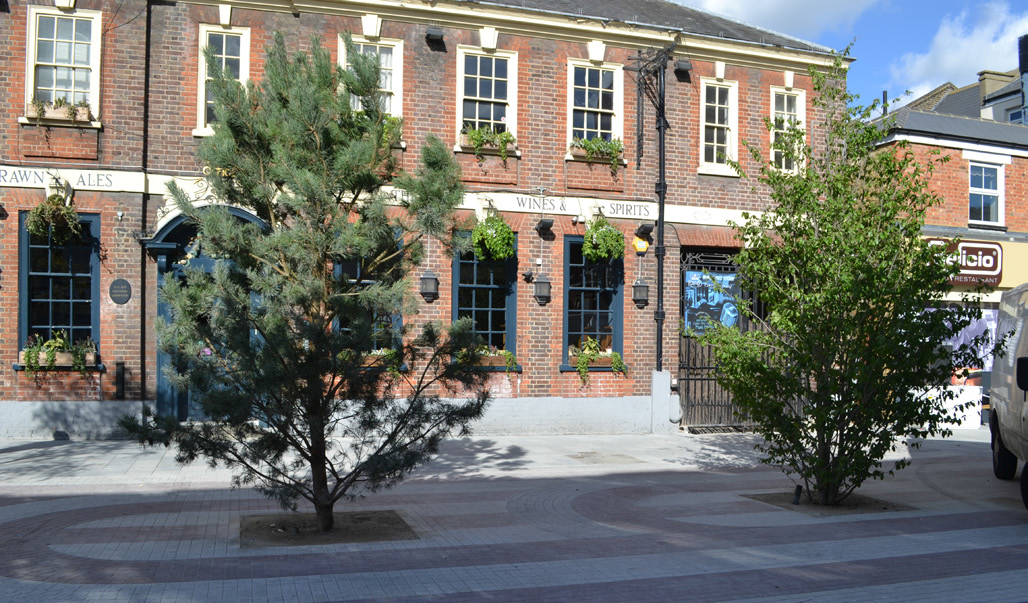 ---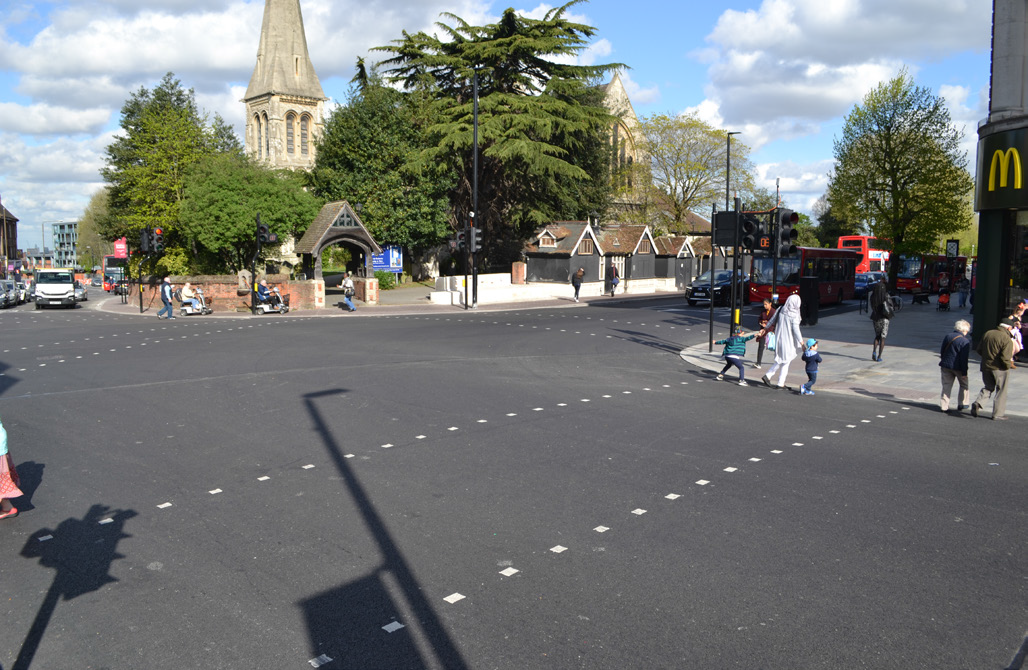 Junction resurfacing and improvements at a major crossroad
---

Scheme drop-in centre set up by J B Riney