Project:
Ive Farm Bridge
Discipline:
Civil Engineering Projects
Client:
London Borough of Waltham Forest
Value:
£500,000
Programme:
Completed 2013
Scheme:
Design, off-site manufacture and installation of superstructure consisting of a 15 metre single span footway bridge over a tributary of the River Lee.
Description:
Geo-technical boreholes to determine ground conditions
Design of sub-structure and superstructure
Piling for support pads
Construction of advance sub-structure comprising 2no. large reinforced concrete pad foundations, up-stand header walls incorporating holding-down bolts
Off-site manufacture by specialist manufacturers of bridge structure
Arrangements for bridge lift
Construction of new connecting footpaths and specialist anti-skid treatment to bridge surface
Re-grading of embankments
Soft landscaping works with new trees and shrubs
---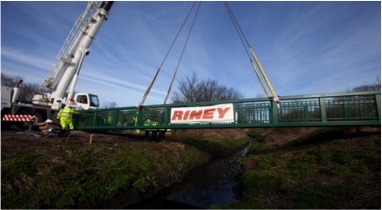 Photo: Ive Farm Bridge:
JB Riney Installing a footbridge in Leyton Jubilee Park, Waltham Forest.