Project:
Highways Street Works Safety Inspections
Discipline:
Safety Inspections
Client:
Tower Hamlets/City of London
Scheme:
J B Riney & Co Ltd provides London Borough Tower Hamlets and City of London with routine public highway safety inspections. Our Safety Inspectors patrol the adopted highway network at pre-determined intervals based upon hierarchal standing. The local authority endeavours to ensure that identified hazards are rectified, or made safe within specified time scales dependant on the severity and location of the defect.
Description:
Description of works – The safety inspection process will help to provide a legal defence against such claims and relevant legislation relating to the local authorities Highway Safety Inspection regime.
Safety Inspectors take photos of all defects, record all significant details and process work orders which are deemed to be a public safety issue on the highway. Hand Held devices are used to synchronise with local authority's safety inspection software for full transparency between contractor and client. All defects are measured, marked on-site and permits obtained before any works commence.
---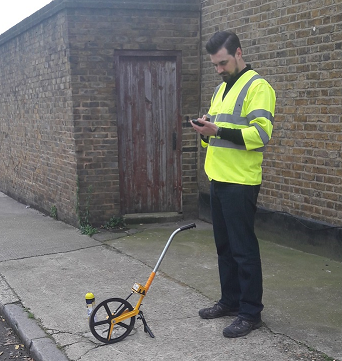 JB Riney Safety Officer completing routine public highway safety inspections.