Street Lighting, Highways Term Maintenance
Project:
Street Lighting, Term Maintenance
Discipline:
Term Maintenance Contract
Client:
City of London
Value:
Part of a £10m contract
Scheme:
J B Riney currently carries out street lighting upkeep for the City of London, as part of the partnering term maintenance contract.
Description:
All street lighting division works included:
• Daily night inspections of street lighting throughout the City of London
• Emergency repairs of highways lighting/electrical street furniture
• Regular programmed works to maintain City's street lighting & electrical street furniture
• Installation of new electrical street lighting/furniture
• City of London underground pipe subway lighting maintenance, repairs & cleaning
• Installation & annual maintenance of City of London festive lighting
• Cyclical annually programmed mechanical & electrical (M&E) maintenance to City of London assets (including all plant and store rooms).
---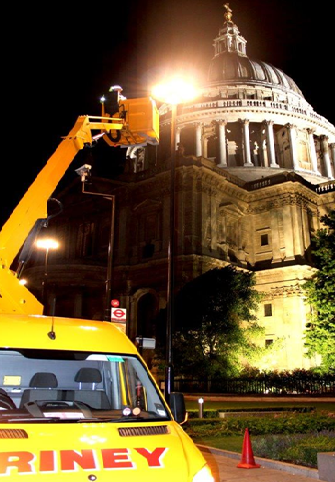 Street lighting at St Paul's Cathedral, London.