West Ham Park Tennis Courts
Project:
Improvement programme
Discipline:
Parks and Landscaping
Client:
City of London
Value:
£290,000
Programme:
Completed 2016
Scheme:
As part of the City of London highways partnering contract, City Surveyors for Open Spaces instructed JB Riney to carry out a complete renovation to 9 no. existing outdoor full size tennis courts at West Ham Park. The facilities are to be used for competitive tennis, general training and mini tennis activities for up to twelve hours per calendar day throughout the year.
Description:
The works at West Ham Park included:
• Site clearance of 9 no. tennis courts
• Rebuild of sub-base including weed killing, geotextile membrane & root barrier system
• Replaced all courts perimeter fencing and edging
• Full coloured resurfacing in a porous macadam including new line-marking
• Replacement of all tennis court equipment and installation of storage containers for facilities
• Relocation of outdoor gym equipment
---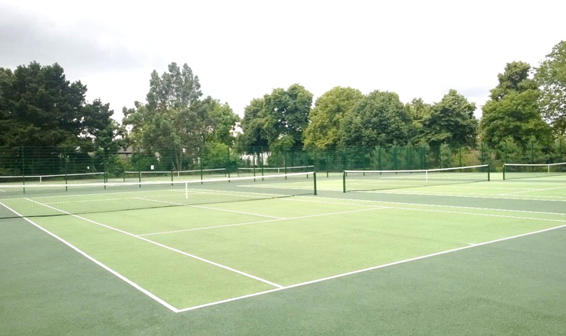 Renovation of 9 outdoor tennis courts.